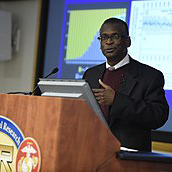 Engineer Lonnie Johnson, Black Inventor
As we are all watching the horrific and polarizing news of an attempted plot to kidnap the Governor of Michigan, the seating of an anti-women's rights Supreme Court justice, voter suppression and the precarity of our national election, we decided to lighten up your day by giving you something positive to share with your children and your communities. We'd like to introduce you to one of the hundreds of Black inventors in our history that few know about.
Lonnie G. Johnson, a prolific Black inventor was born on October 3, 1949. Growing up in the Jim Crow south, his father worked as a civilian driver at nearby Air Force bases, while his mother worked as a nurses' aid and in a laundromat. During the summers both of Johnson's parents, like most Black people in the South at the time, also picked cotton. Also, out of both interest and economic necessity, Johnson's father was a skilled handyman who taught all of his six children to build their own toys. Lonnie though, was the one most excited to do so. When Lonnie was still a small boy, he and his dad built a pressurized chinaberry shooter out of bamboo shoots. At age thirteen, the young Johnson attached a lawnmower engine to a go-kart he built from junkyard scraps and raced it along the highway until the police pulled him over.
From a very young age, Johnson dreamed of becoming an inventor but growing up in Mobile, Alabama in the days of legal segregation, education was limited, and despite his intelligence and creativity, he was told not to aspire beyond a career as a technician. Undaunted and inspired by George Washington Carver, the Tuskegee University based agricultural engineer, he continued. The more and more curious he became about the way things worked, the more ambitious his experimentation became—sometimes to the concern and worry of his family. According to his mother, "Lonnie tore up his sister's baby doll to see what made the eyes close," and another time, he nearly burned the house down when he attempted to cook up rocket fuel in one of his mother's saucepans and the concoction exploded.
Nicknamed "The Professor" by his high school buddies, Johnson represented his Black school at a 1968 science fair sponsored by the Junior Engineering Technical Society (JETS). The fair took place at the University of Alabama at Tuscaloosa, where, just five years earlier, Alabama Governor George Wallace tried to prevent two Black students from enrolling in the school by standing in the entry to the Foster Auditorium – this is now known as the "Stand in the Schoolhouse Door," one of the last Segregationists' moves at the University of Alabama. Johnson was the only Black student in the competition where he debuted a compressed-air-powered robot, called "the Linex," that he built from junkyard scraps over the course of a year. Much to the chagrin of racist university officials, Johnson won first prize.
After graduating from high school in 1969, Johnson attended Tuskegee University on a scholarship. He earned a bachelor's degree in mechanical engineering in 1973, and two years later he received a master's degree in nuclear engineering. From 1979 to 1991, he worked in NASA's Jet Propulsion Laboratory where he worked on a variety of projects, including the Air Force missions Lab, developing the nuclear power source for the Galileo mission to Jupiter and several weapons related projects. He also served as a key engineer on the Mariner Mark ll Spacecraft series for Comet Rendezvous and for Saturn Orbiter Probe missions. He was also assigned to the Strategic Air Command, where he helped develop the stealth bomber program.
In 1991, Johnson founded his own company, Johnson Research and Development Co., Inc., (JEMS) of which he is also the president. More recently, he teamed up with scientists from Tulane University and Tuskegee University to develop a method of transforming heat into electricity with the goal of making green energy more affordable. JEMS developed the Johnson Thermo-Electrochemical Converter System (JTEC), which was listed by Popular Mechanics as one of the top 10 inventions of 2009. This system developed promising applications in solar power plants and ocean thermal power generation. It converts thermal energy to electrical energy using a non-steam process which works by pushing hydrogen ions through two membranes, with claimed advantages over alternative systems.
His best-known invention is probably one we have all used, however. At least hundreds of children use it in backyards and in parks during hot summer days. This large gun-like toy is used by children to shoot water at each other. In 1989, this toy became a massively successful item, and topped $200 million in sales in 1991, and went on to annually rank among the world's Top 20 best-selling toys.
So, what is his best-known invention? The Super Soaker!
*These messages are aimed at educating the K community on African-American history and culture, and are brought to you by The Faculty Advisory Board of the Arcus Center for Social Justice leadership and the HHMI Inclusive Excellence Faculty team, as we continue to work towards being an anti-racist Institution. 19 marks 1619, the year in which the first set of African slaves were brought to what would become the United States, and June 19th, 1865, marks the day that Blacks celebrate the end of enslavement in the US. Both of these dates, and their meanings, were largely unknown to many outside of the Black community. We need to understand that much of the "surprise" experienced by many at the continued uprisings led by the Black lives Matter movement derives from a lack of knowledge of the rich fabric of Black History.
Regina Stevens-Truss, HHMI Inclusive Excellence + Chemistry department
Lisa Brock, ACSJL + History department